Decorative Painting
Custom faux finishes, including
Woodgraining
Marblizing
Antiquing
Cloth distressing
Colorwashing,
as well as decorative treatments such as
Stripes
Plaids
Stenciling
Handpainted embellishment
on ceilings, walls, floors and furniture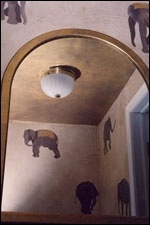 Elephant Powder room
The walls are "frottaged" to look like elephant skin,
the ceiling is glazed gold over gray, the elephants are handpainted, and the mirror was painted and distressed to match.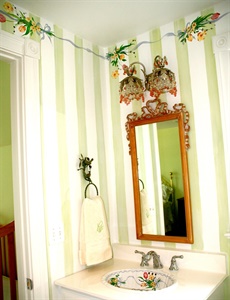 Striped bathroom
The stripes are glazed; the client wanted a border painted to match the flowered sink.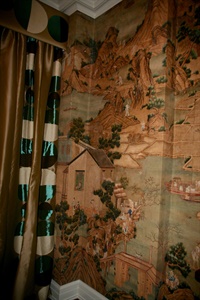 Chinese wallpaper repair
This 18th century handpainted Chinese wallpaper was carefully restored with casein paints.
7'H x 42'W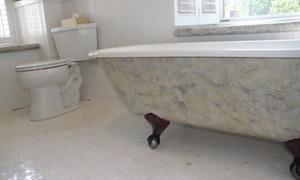 Faux granite bathtub
The bathtub was painted to look like the granite of the counters and windowsill.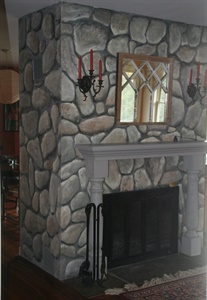 "Stone" Fireplace
Trompe l'oeil -- Concrete fireplace painted to look like it's made of fieldstones.
7'H x 8'W x 3'D